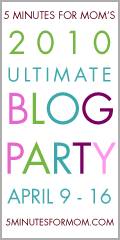 5 Minutes for Mom
is hosting its Ultimate Blog Party this week! They are giving away what looks to be a zillion prizes, so be sure to stop by and sign up!
For those of you visiting Inside the Yellow House, you've come at the right time. Yellow House Knits is having its Semi-Annual Sale this week and next, so this is your opportunity to have a beautiful, handknit baby sweater--including the adorable pink flower sweater below--at a huge discount (all in-stock sweaters are 40% off). There's also a special offer for bloggers (click
here
for details).
The Party prizes are pretty fantastic. I'm particularly interested in the following, but I would love to win any of the prizes (especially those my little niece would love and the gift cards) if these are taken: the Amazon gift cards from
Escalate Network
(US 73) and
A Full Cup
(US 74), the Vanilla Visa card from
Shoot Me Now
(US 104), the Target gift card from
Peggy Gorman
(USC 3), the Kay Jewelers gift card from
An Unpink Life
(USC 13), and the Apple Store gift card from
Cmomgo
(USC 17).
Thanks for stopping by!